6 reasons Why Knime is my Favourite Tool as a Data Analyst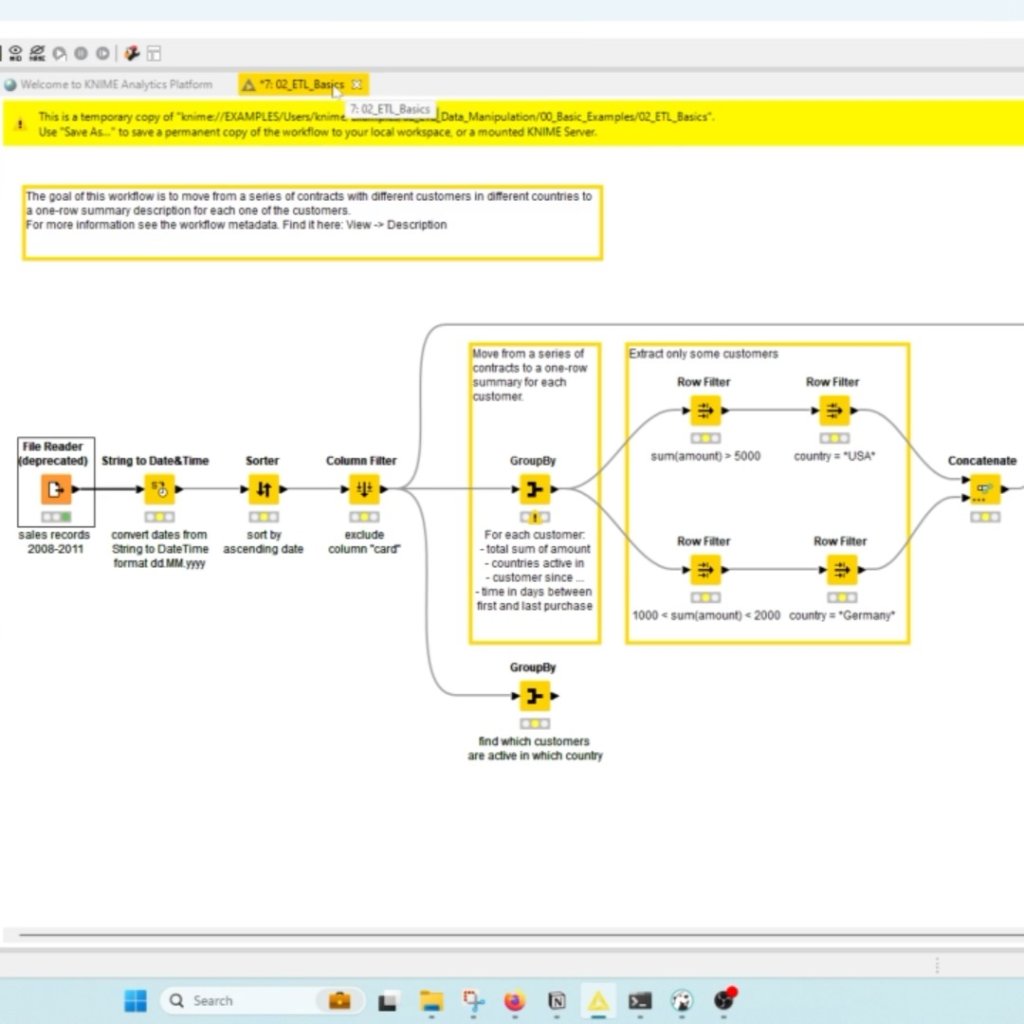 So you want to know why Knime is my favourite tool as a data analyst? In the dynamic realm of data analytics, finding the perfect ally can be a game-changer for every data enthusiast, and if you haven't met Knime Analytics yet, you're in for a treat. Picture this: a visual flow diagram of your code, bringing your data analysis to life without the intricate dance of Python or Power Query. Welcome to the realm of Knime, where everything is documented as you go – a game-changer for the data analyst.
Over the last 25 years, I've used lots of tools to help me do my work. Those tools range from text editors to more advanced IDE's for writing code. As a Data Analyst, Knime is my favourite tool and I want to share with you just why I love it so much.
Now this list is not all there is to Knime, but it's a start of what I think will be of interest to most new or even experienced data analysts when looking at new tools.
Play the video below 👇🏽
Why I say knime is my favourite tool?
Visual Documentation: Code Unleashed
This is the best feature. No Python code or Power Query or any other tool is going to give you a visual flow diagram of your code. Knime does exactly that. This is one of the top reasons why Knime is my favourite tool as a data analyst.
No more deciphering lines of code or squinting at complex algorithms. With Knime, your entire data journey unfolds visually on a canvas, transforming each step into a node. Whether you're a seasoned data analyst or the captain of a data analytics team, this visual documentation feature is bound to redefine your experience, making it accessible and comprehensible at every turn.
The Vast Library: Where Complexity Meets Connectivity
Ever faced a data source that seemed impossible to connect to? Knime, with its mature and extensive library that covers every conceivable data source. From conventional databases to the intricate landscape of Google's BigQuery, Knime handles it all effortlessly. No more hunting for connectors – Knime has them all, including the ones that demand private keys and Java SDKs.
There is not a data source that I have needed to connect to that Knime doesn't already have a connector for, this includes more complex things like Google's BigQuery where you need private keys and Java SDK's loaded. All of these are possible, which is why knime is my favourite tool.
API Interface: Unleashing Hidden Potentials
Think API interfaces are exclusively the domain of Python or NodeJS? Think again. Knime brings the power of API coding to your fingertips, not just as a service but for bulk updates and data requests. This underrated feature is a silent force, waiting to revolutionize the way you interact with your data.
Step-by-Step Data Debug: Precision in Every Node
Data analysis is a journey, and Knime ensures that each step is not just a line of code but a visual node on your canvas. Debugging becomes a breeze as you evaluate and preview each step in your data transformations. Create new branches and test different scenarios with ease, fostering a level of precision that's unmatched.
Because everything is node-based, each step in your data transformations or analysis is a node that you place on the canvas. Each step in the process can then be evaluated and previewed.
You can even create new branches or data paths to test different scenarios.
Multi-Platform Prowess: Where Windows Meets Linux and Mac
Knime doesn't play favorites with operating systems. Run it on Windows, Linux, or Mac – the experience remains seamless across all platforms. Develop your workflows on a Windows machine, export them effortlessly, and watch them run seamlessly on a Linux server platform. The freedom to choose your environment has never been this liberating.
Active Help Forums: Community-Driven Solutions
In the ever-evolving landscape of data analytics, support is paramount. Knime understands this, boasting active and community-driven help forums. Need a solution? Chances are the community has already addressed it. If not, pose your query, and the eagerness of the Knime community to assist is unmatched. It's not just a tool; it's a community that fosters growth and collaboration.
Closing Thoughts: My Always-in-the-Bag Tool
For every data project, there's an unsung hero – the tool that never falters, always delivering beyond expectations. For many, including myself, that tool is Knime. From unravelling the mysteries of an Excel document to navigating a multi-million-row table, Knime is the go-to companion. It's not just a tool; it's the unwavering companion in the data analytics journey, always ready to meet the challenges head-on. Embrace Knime, and let your data analysis thrive in a visually captivating, seamlessly connected, and community-driven environment.
I use Knime on every project I work on. It's my always-in-my-bag tool. Clearly, Knime is my favourite tool as a Data Analyst
If you aren't ready for Knime but want to know more about Excel, then check out this workshop I recorded. There are some great tips in this
If you'd like to download a copy of Knime and start using it, then head over to the website https://www.knime.com/downloads